2 Artful Ways of Folding Paper Napkins With Kids

Paper napkin folding is more than just a fun way to liven up the dinner table for guests. It's also a genius parenting hack: the perfect way to spend creative time with your kids, keeping them happy (and occupied) while they wait for the evening meal. Short on inspiration? Not to worry – these easy step-by-step guides to folding a napkin into the shape of flower and a cutlery cone can help you turn a humble paper towel or napkin into a work of art.
How to fold paper napkins
in 2 easy ways
These quick napkin folding designs are easy enough for mum and dad, and even for little hands. We've used Zewa paper here, because it's strong enough to hold these shapes, and its embossed design gives a pretty finish (even better if the kids colour it in!) 
Folding a paper napkin into a lotus
Folding a paper napkin into a lotus is easy, but looks difficult and impressive. Feel free to let the kids get carried away: the more of these neat paper lotuses they make, the larger and fancier the bouquet:
Was wird benötigt?
Zewa kitchen paper 
Ruler 
Scissors
1. For folding a napkin into the shape of flower, first cut the piece of kitchen paper into a square. Then fold it diagonally both ways, pressing down to crease it, and open it out.
2. Next, fold all four corners into the centre, so it looks like a square with a cross going through it.
3. Flip the diamond shape over, then fold the corners to meet the centre again. There should be a fold at the centre of each folded corner, pointing in towards the middle.
4. Finally, holding the centre down, reach underneath the napkin and gently pull up the corners, until they stand up to form the petals of your Lotus.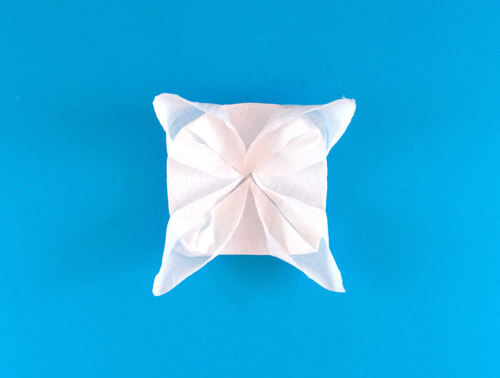 Tipp
Use Zewa Extra White kitchen paper for a paper lotus flower that looks clean and beautiful.
How to fold a paper napkin

or towel into a cone

This quick and easy cone shape creates a handy pocket for kids' cutlery to go in – a great way to show boys and girls that good hygiene at meal times is fun. Folding paper napkins is easy with these simple steps.
Was wird benötigt?
Zewa kitchen paper
Ruler 
Scissors
1. First cut the kitchen paper into an equal-sized square. Then lay it flat on the table, and fold it in half so it forms a rectangle, and in half again to form a square.
2. Next, turn it so that it looks like a diamond, with the folded edges closest to you. Take the top corner of the top layer and fold it over all the way down to the bottom corner, and press it flat.
3. Now turn the paper over, keeping it in its diamond shape. Fold the right corner of the napkin to the middle and press flat. Then fold the left corner over the right, and tuck the corner inside. 
Tipp
Brighten up the table by using a kitchen paper with a fun design for kids, like Zewa Minions special edition.
There you have it: two easy-but-impressive ways of folding paper napkins and towels with your little ones. It'll (almost) feel like a shame to use them.
---
Findest du den Artikel hilfreich?
Danke für Ihr Feedback!
oder
Deine monatlichen Tipps und Tricks zu den Themen Reinigung, Küche und Co