A simple but effective house cleaning schedule
2 people found this helpful


Featured:
Plenty The Original One
Wettable, Ringable & Scrubbable – Plenty kitchen roll is 40% more absorbent and NEW Power-X ...
When everyone's running riot in the house, scattering crumbs over sofas or stomping mud up the stairs while squealing with glee, it can be tricky to fit your usual house cleaning schedule in around them.
Having a plan and a strict (but obviously not too strict) cleaning rota that covers daily, weekly and monthly tasks is super useful in getting the job done without sacrificing even a second of silly, sloppy and straight up smelly fun. After all, it's not like any of us are going to stop eating crisps on the sofa, is it? So, if you're after some tips on how to keep your home in top condition, our house cleaning schedule is here to help.
Daily house cleaning rota
Let's start with a rundown of some tasks you can do quickly each day. Most of these are simple tasks that shouldn't take too long at all:
Sweeping the kitchen floor
Wiping sticky slops of sauce from kitchen surfaces
Making sure dishes don't get left in the sink
Making the bed
Putting dirty laundry into baskets instead of leaving them on "The Chair"
Wiping down the kitchen hob if it's been used
Emptying the rubbish, especially on stinky hot days
Hanging up clean clothes
Of course, some of the jobs in the house cleaning rota can involve the whole gang. When everyone takes responsibility for their own rooms, cleaning up takes far less time, which means there's more for sliding down the stairs on bums, trailing sticky fingerprints along the walls as they go!
Weekly house cleaning schedule
When you keep on top of the daily tasks, everything else on your cleaning rota is easier to deal with – yes, even those squishy wet balls of hair your cat hacks up on the cream carpet. And with the daily stuff managed, there's more time to crack on with some of the bigger weekly jobs – like vacuuming, dusting, and scrubbing that loo!
Here's a quick checklist of jobs you can take care of on a weekly basis:


Dusting.



Dust accumulates quickly, especially around the TV, skirting boards and doorframes. And while little fingers might find it more fun to draw pictures in the dirt, dusting should always be your first job on cleaning days as you're bound to knock some on to the floor – ready for...



Vacuuming.



The best way to organise your vacuum cleaning schedule is to systematically work room by room. Or just follow the cookie-munching mess-makers!



Kitchen cleaning.



You'll be keeping the kitchen clean daily, but a deep clean once a week is a really good idea to get all those little bits – salt and pepper pieces, hardened crunchy cheese gratings, stale old breadcrumbs – that end up around the toaster, behind the breadbin and sometimes, back on dinner plates! That means moving things off surfaces and wiping down all areas thoroughly, including mopping the floor. When using an antibacterial cleaner always read the label, check that it's suitable for the surface, and follow the instructions.
Tip
Plenty kitchen towel is the ideal cleaning companion. Super strong and absorbent, it's not only perfect for cleaning the kitchen but also works for cleaning tasks around the house, like in the bathroom.
Bathroom cleaning.



Again, move everything off surfaces and get to work scrubbing the basin, taps, bath, tiles, showerhead, etc. Use a specialist bathroom cleaner and always follow the instructions. On cleaning days that involve the bathroom, make sure you include any other toilets in the house too. Bleach is great for killing all those icky stains and bacteria and will leave your toilet looking shiny and new. Again, just be sure to read the instructions, wear gloves and follow the dos and don'ts of cleaning with bleach.
The above tasks are prime candidates for your weekly rota, but you may need to visit some more often – depending on how much spicy food your household eat, and can stomach... And don't forget polishing mirrors, wiping down door handles, washing the bedding… all the little bits and pieces too.
Monthly house cleaning schedule
Just as regular daily cleaning and tidying help make your weekly tasks easier, keeping on top of your weekly house cleaning schedule will give you the time to address monthly jobs more easily. Some chores you might want to consider adding to your monthly schedule include:
Washing soft furnishings, such as curtains, cushion covers etc
Deep-cleaning your bins to get rid of that stinky bin juice
Cleaning window frames
Cleaning light fittings and shades
Cleaning your dishwasher and washing machine (limescale on the seals in particular)
Cleaning out the fridge and freezer thoroughly – yes, that thing at the back was once a vegetable
Cleaning the oven.
The key to effective house cleaning is to create a clear rota and tick things off as you go, particularly the bigger tasks detailed in the weekly and monthly sections. And if you keep up with the daily tasks it all has a positive knock-on effect.
Start off by doing an audit of your home and note which jobs you think need doing and when – then you've got your plan. Where possible, get everyone in the household involved in your cleaning schedule. Mess follows us wherever we go – but if we're making mess, we're having fun! And what's not to love about that?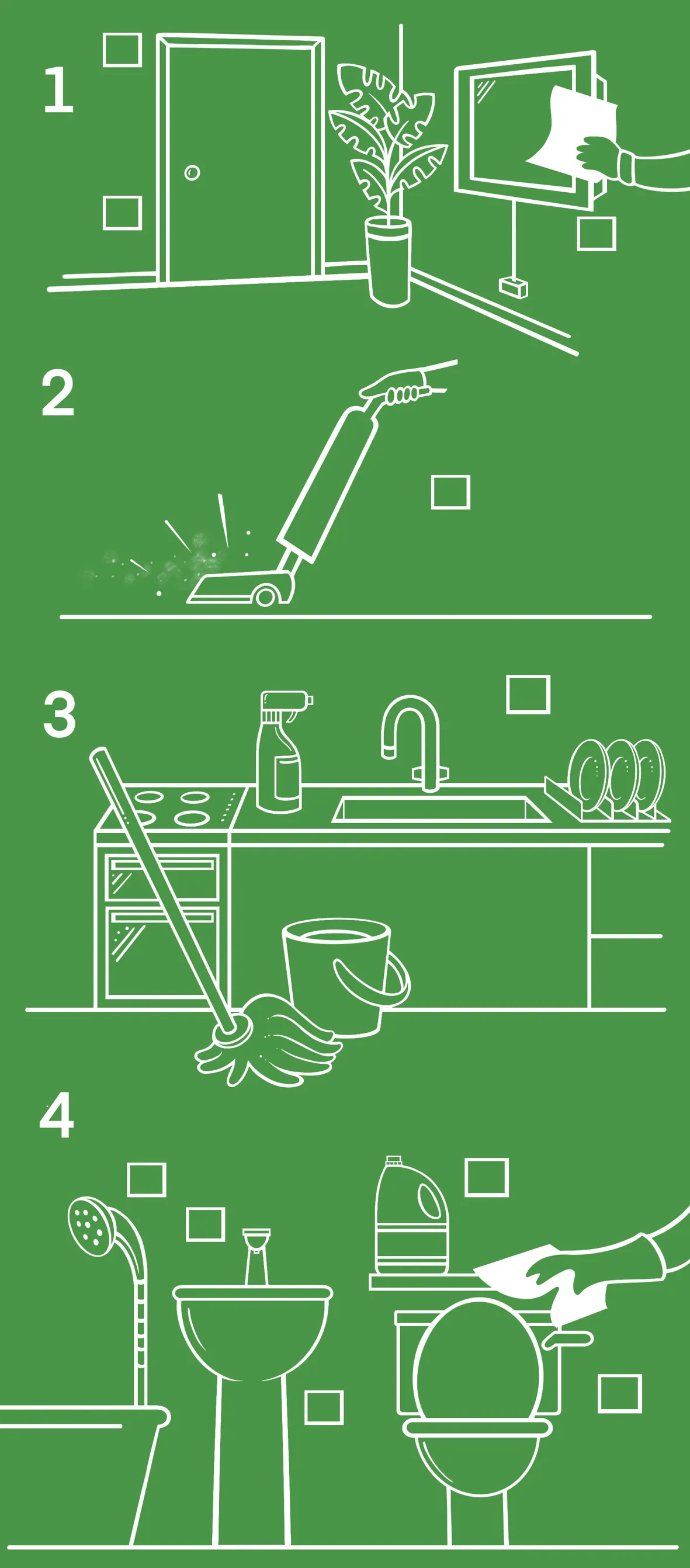 ---
Did you find this article helpful?
Thanks for your feedback!
or