Plenty Original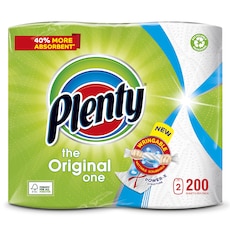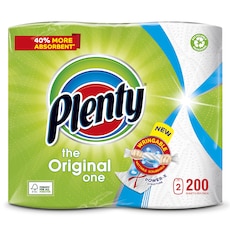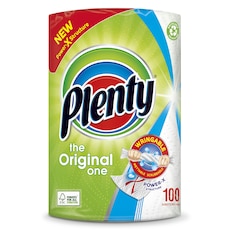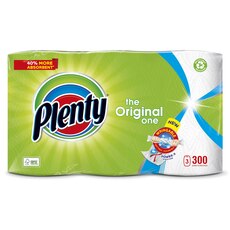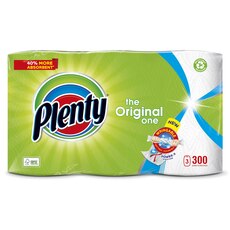 2 ply
White sheets
Average 100 sheets per roll
Available in 1 roll, 2 rolls, 3 rolls, 4 rolls, 6 rolls and 8 rolls
Average roll length 22.7m
Wettable, Wringable & Scrubbable
Strong and absorbent
Power-X structure for enhanced performance
Certified compostable kitchen roll sheets
Wettable, Wringable & Scrubbable – Plenty kitchen roll is 40% more absorbent* while the Power-X structure keeps the sheets strong and intact even when wet! Great for tougher tasks all around the home. And now it's compostable! That's compostable sheets** for compostable messes.
Plenty Original is perfect for all kinds of tough tasks all over the home. Whether you're mopping, wetting, polishing, shining, cooking or cleaning, Plenty Original is up to the job. Superior performance, thanks to the innovative Power-X structure, means you can get more from every sheet of your kitchen roll. Better performance means better value and a cleaner home.
Ever wondered 'can you compost kitchen roll?' As well as being super absorbent and durable, Plenty Original is now also compostable! Now those little spills and splashes that life throws at us can be turned into something positive and productive for your garden and the environment!
Plenty compostable paper towel is no longer just great for you house, but for your garden, too. What's not to love?
They're compostable sheets for compostable messes! That means Plenty Original's compostable kitchen roll sheets can be composted as long as they have not been used on non-compostable materials. Read about what can and can't be composted for more information.
Still got questions? Check out our FAQs to learn more about Plenty Original, Plenty Flexisheets and Plenty MAX sheets being compostable! And why not learn more about Plenty's other sustainability initiatives, too.
vs the next best-selling brand. Based on laboratory tests (April 2023)
Plenty kitchen towels are certified as home and industrially compostable according to NF T 50-800 and EN14995.