Plenty MAX The Extra Big One
Plenty

MAX The Extra Big One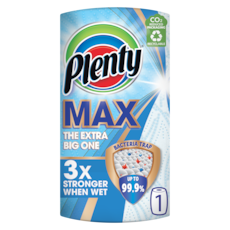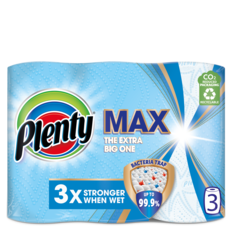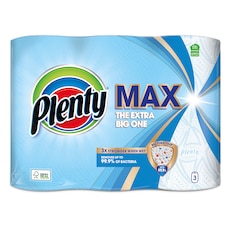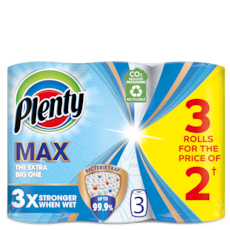 Tips for tackling germs in the kitchen:
Clean high-traffic areas every day. Give areas that are touched frequently such as handles and taps a wipe with one sheet of Plenty Max, dampened with water, once a day. Up your hygiene by using paper towels instead of a sponge for those germy jobs like wiping around the plug hole.
Use an old toothbrush for getting into corners. Bacteria tends to live in hard-to-reach areas – so grab an old toothbrush to clean those tight spots.
Clean the sink – properly. It's easy to give the sink a final wipe – but that'll just leave your kitchen sponge germs in other areas. Finish off your sink cleaning with one sheet of Plenty Max and water
2 ply
Average sheet size 278mm x 257mm
Available in 1 roll and 3 rolls
Plenty Max The Extra Big One is 3x stronger when wet* and removes up to 99.9% bacteria when wiping with water**
With just three simple steps: Moisturise your towel with water to maximise its cleaning power. Wipe surface clean and dry, the pore structure and superior absorbency of Plenty Max will trap the visible dirt and the invisible bacteria. Dispose of the trapped bacteria in the towel. It's excellent absorbency and durability when wet make it the perfect choice to help you keep your home clean and hygienic.
NEW Power-X structure keeps the sheets strong even when wet! The extra-large sheet is perfect for bigger tougher tasks all around the home. Whether you're mopping, wetting, polishing, shining, cooking or cleaning, Plenty MAX's superior performance is perfect for every task.

*Versus the next best-selling brand. Based on independent laboratory tests (February 2021)
** Based on independent laboratory tests (January 2021)
3x stronger when wet than key competitors' kitchen towels, our extra-strong and highly absorbent Plenty MAX paper towels naturally remove up to 99.9% of bacteria just with water - without the need to use harsh chemical products.

Hygienic kitchen towels with natural BacteriaTrap Plenty MAX kitchen towel helps protect you and your loved ones against invisible nasties. The hygienic paper towels have a highly absorbent micropore structure that mechanically removes up to 99.9% of bacteria.

Choose love, not chemicals Because Plenty MAX kitchen paper removes visible and invisible dirt with just water and wiping alone, you can reduce your reliance on chemicals and harsh cleaning products, while still taking care of the ones you love.

Wettable, wringable, scrubbable From the first sheet to the last, you can enjoy kitchen paper that's 3x stronger when wet and absorbent for all of life's slimy, sludgy or slippery mishaps.

Extra-large sheets to handle your muckiest messes Plenty MAX kitchen roll is made with extra-large sheets, so you can tackle the even bigger messes (yes, including that cat poop) with just one sheet. Convenient, ey?