4 healthy barbeque food ideas

Ahh, a barbeque – a time to come together with friends and family and tuck into some fabulous food al fresco. And to get said food all over your chin. But you love each other just as much with ketchup dripping down your faces. And that's what kitchen paper is for, anyway. 
When we think of barbeque food ideas, beef burgers and pork sausages often spring to mind, but there's a host of alternatives. And the food doesn't have to be unhealthy, even if it is still a little messy. Dial the flavour up to the max and incorporate some of the following healthy barbeque ideas into your next cookout.
NB. These barbeque salad ideas and mains should be enough for four to six guests.


1. Minty potato salad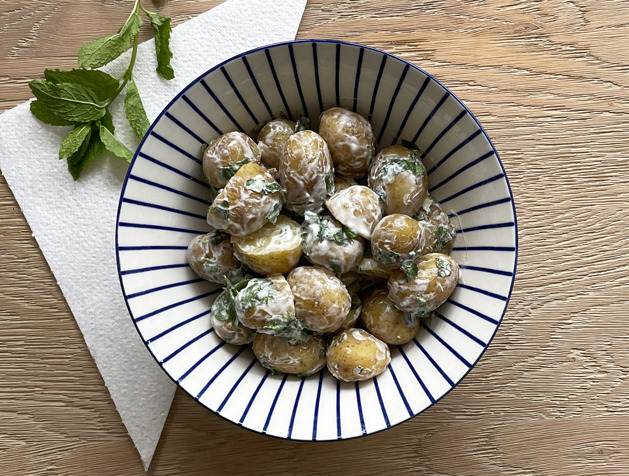 No grill session would be complete without mouth-watering sides, and potato salad is a staple of any great barbeque. Salad recipes, like potato salad, are generally healthy – up to the point where the ingredients get smothered in salty and fatty condiments like mayonnaise! Try this lighter alternative to freshen things up. You'll need:
500g new potatoes 
200g low-fat yoghurt 
Handful of mint. 
Now the method: 
Boil the potatoes and set aside to cool. 
Mix the yoghurt and mint and dress the potatoes with the mixture. 
Place your potato salad in the fridge and move on to getting everything else ready.
When you're good to go, pop it on the table and let everyone serve themselves. While you're at it, pop a roll of Plenty kitchen paper on the table too, so that your loved ones can wipe up the inevitable splat of minty yoghurt dressing that lands right on their lap. Better yet, use a sheet of kitchen paper as a lap saviour (a.k.a. a napkin).


2. Creative Caesar salad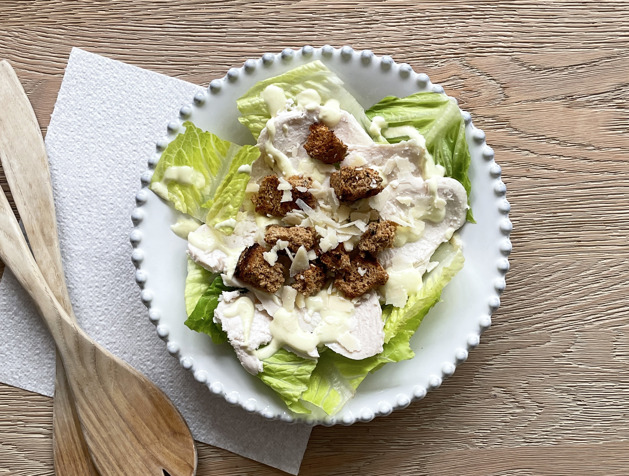 This is one of those classic barbeque salad ideas that requires a twist to make it healthier. You'll need the following:
4 cooked, sliced chicken breasts 
2-3 slices wholemeal bread 
1 tbsp mustard
500g low-fat yoghurt
Lemon
Finely chopped clove of garlic
Romaine lettuce 
Sprinkle of parmesan. 
Here's how:
Lay the salad leaves in a big bowl and top with the cooked chicken breast. 
Blend the mustard, lemon, yoghurt and garlic to make your dressing. Just double-check that the lid is screwed on tight – you don't want a repeat of the Blender Splatter Show of 2018. Or was that just us? 
Grill some wholemeal bread and then chop into croutons. You could even slow cook them in the oven to get them really crispy – no heavy oil or mayo needed in this recipe. 
Finally bring it all together by sprinkling over the parmesan, adding your dressing and place a bowl of croutons on the side for people to help themselves. 
That's your sides sorted, so now let's move onto some more substantial healthy barbeque food. Bring on the mains!


3. Herby bean burgers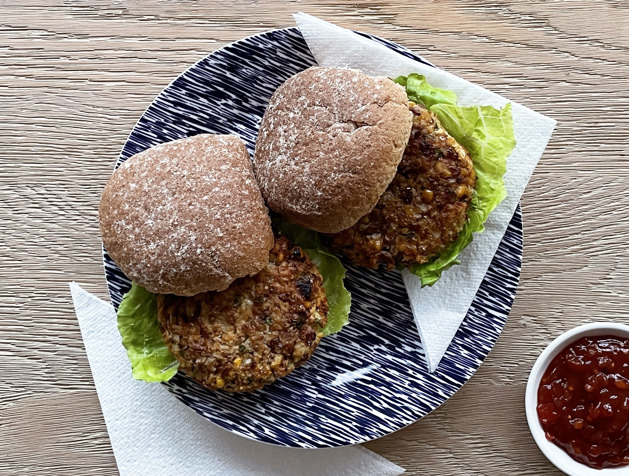 You can't go to a barbeque and not have a burger! And while switching fatty beef to a leaner venison burger is one of those solid healthy barbeque ideas, going entirely plant-based takes it up a notch. It's easy to do too, with these ingredients:
2 tins of beans – black beans, butter beans or chick peas work well 
Handful of parsley, coriander and dill – try any herb combo you like for healthy barbeque recipes like this
Onion
100g breadcrumbs. 
Here's how to make them:
Whizz up the beans, herbs, breadcrumbs and onion, leaving some beans a little chunky for texture. 
Shape the mixture into the desired amount of burger patties.
Pop on the grill until golden. 
Best served in a wholemeal bun or crunchy lettuce wrap, with a fresh tomato relish.


4. Mediterranean kebabs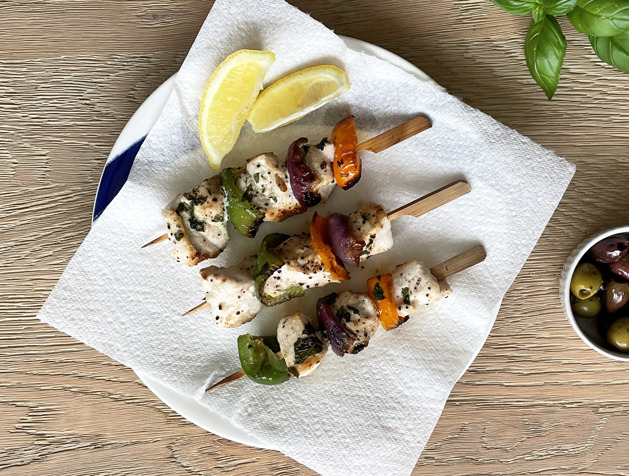 We all know how healthy the Mediterranean diet is, so why not bring that influence to barbeque food? Ideas based around lean fish and/or meat cut the saturated fat big time. Whether you go for fish or chicken, this is the sort of healthy barbeque food that packs a lot of flavour and nutrition in one go. Try a combination of the following ingredients:
400g diced chicken breast or fish – salmon, tuna, prawns and white fish are great
Sliced peppers and onions
Oregano, basil and black pepper to taste
Olive oil. 
Method:
Alternate chunks of fish or meat with sliced onions and peppers. 
Brush with olive oil and sprinkle herbs and pepper over the kebabs evenly. 
Pop on the barbeque and turn to cook evenly (make sure any chicken is cooked right through before serving). 
Serve on the skewers and let your guests dive in.


Food hygiene tips
When barbequing it's always vital to practice good food safety and hygiene, and the following tips will help you do just that:
Keep raw meat separate from other ingredients at all times and never use the same knife to chop.
Wash fresh produce before prepping and serving.
Keep your hands clean. (We've all had plenty of practice with that one.)
Don't leave food lying out.
Ensure meat is cooked through – either cut into it to check or use a meat thermometer.
Keep Plenty kitchen paper on hand to wipe up spills and sticky hands. 
Tip
Plenty is the perfect barbeque companion. Strong and absorbent, this kitchen paper is ideal for dealing with those inevitable spillages and sticky fingers. A bit of mess is par for the course: you can take it as a sign of appreciation!
From healthy barbeque salad recipes to hearty barbeque mains, that's plenty of inspiration for your next cookout. All that's left is for you to gather the gang together and give these healthy barbeque recipes a try. Enjoy!
---
Did you find this article helpful?
Thanks for your feedback!
or