Easy lunch ideas for kids


Featured:
Plenty Handy Towels
Spending time on creative lunch ideas for kids at home only for them to be rejected never feels like the best use of your time, especially when you're dealing with the soupy mess they've made when they decided to mix up all the food on their plate together instead of eating it. We know. It's not always easy to get healthy food into our children, but lunch ideas that are fun and interesting might make all the difference. Besides, you don't mind putting in a little bit of extra effort if it means your child will be full of beans and focused for the rest of the afternoon. Here are three quick lunch ideas for kids.
Preparation is key
You'll notice a theme running through these lunch ideas for kids at home, and that is preparation. When you can prep in advance, you'll save yourself so much time in the long run. So, chop, slice, blitz when you can (but for the love of blitzing, double-check the blender lid is tightly screwed on!), and you'll be able to serve those quick lunch ideas for kids in no time.
Tip
TiStore items you're going to use in your lunch ideas for the kids in the fridge wrapped in strong and absorbent Plenty kitchen towel. It'll keep fresh produce covered and absorb anything that leaks. Yes, even the oozing raspberries that got smushed under a pile of avocados!
1. Tasty triple-topped wholemeal pizza faces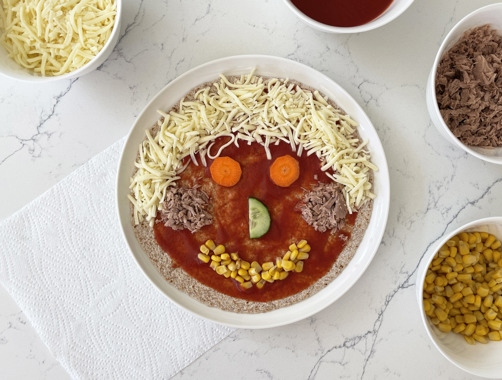 Healthy sandwiches are a great option when you're making lunch for kids: ideas that pack in quality nutrition and flavour all in one. But how can you up your sandwich game? Well, how about turning a sandwich wrap into a pizza party? With your prep already done this one's easy, and the kids will love getting involved. Give this recipe a try:
Take one large wholemeal wrap.
Put out three bowls of toppings: one of veg – sweetcorn, cucumber, peppers, grated carrot, etc.; one protein – sliced cooked chicken, tinned tuna, grated low-fat cheese, etc.; and one bowl of sauce – passata with a splash of balsamic vinegar and drizzle of natural honey works well.
Let them top their own wrap like a pizza, with the tomato sauce first, then the veg and protein. They're far more likely to tuck in when they've made it for themselves, even if their pizza doesn't much resemble a face and looks more like a gruesome melting monster with eyes sliding off the edge of the table... Splat.
Make it even more appealing by cutting the wrap into a shape first (butterflies, hearts, your dog...) 
Pop in the oven until the meat and veg are cooked and cheese has melted and dribbled into burnt bubbly blobs on the bottom shelf. Yum.
2. Super-duper soup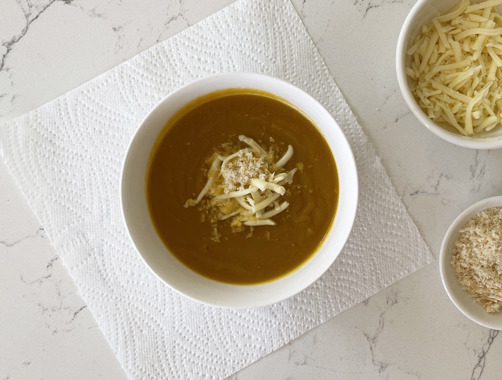 Healthy eating for young ones is often about disguising ingredients. A catchy name can really do the trick too. Step forward super-duper soup! Why is it super-duper? You'll have to use your own imagination and creativity here, but bright colours, blender-button pressing and talking about 'secret ingredients' can all do the job. And soup is one of the quickest, easiest lunch ideas for kids at home. Here's a recipe for you to try with your little ones:
Fill your blender with cooked carrots, sweet potatoes and a little spinach or broccoli. As long as you outweigh the greenery with the orange you'll get the bright tone you're after.
Unless they enjoy a little texture, pulse until completely smooth… You can play a game of "guess that tune!" with the pulse button to keep them interested.
Add a side bowl of breadcrumbs (no more than a tablespoon) and let them sprinkle them on top of their soup, all over the table and inevitably, on the floor too. That's another thing that makes the soup super-duper – they get to add their own topping. They might even like to add some grated cheese.
Simply playing around with the ingredients will help you, and them, create some very colourful lunches. 
Top tip – make a big batch and freeze portions for lunch in the future.
3. Homemade chicken/fish dippers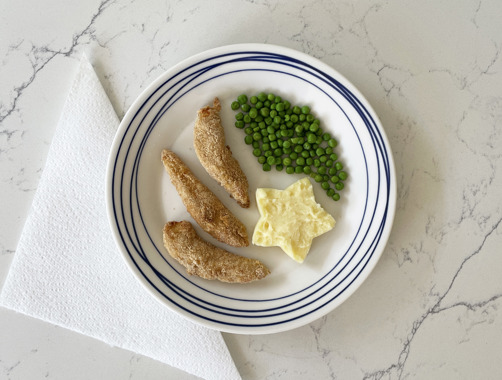 Nuggets, dippers, fingers… what child doesn't love the bright orange versions that come out of the box? But they're not always the healthiest. So, if you've got the time, why not make your own? It's actually a really easy lunch for kids. Ideas like this are all about the prep. Get them ready the night before and then all you'll have to do is pop them in the oven or under the grill, ready for lunch. Here's how:
Choose between fish (white fish, tuna or salmon is perfect) or chicken. 
Dip your protein into flour and then into a bowl of whisked egg.
Finally, roll around in a plate of breadcrumbs and place on a tray. The kids can definitely get involved in this super gloopy and sticky fun!
Once you've made enough, pop them in the fridge, ready for the next day.
Cook thoroughly in the oven or under the grill and add a few fun vegetable shapes and clouds of mashed potato to finish the dish.
You could even make a big batch and freeze them too. It's always good to have freezer meals on hand when you need them.
So that's how to rustle up three healthy, quick and convenient meals for children. Lunch ideas like these are easy to make and packed full of goodness. And whilst they might leave a few more trails of crumbs around the house, your kids will absolutely love them – and so will the dog! So give them a whirl and have some fun in the process.
---
Did you find this article helpful?
Thanks for your feedback!
or