Our favourite weekly family meal plan

Featured:
Plenty The Original One
Wettable, Ringable & Scrubbable – Plenty kitchen roll is 40% more absorbent and NEW Power-X ...
We're all about the simple life, and life is definitely simpler with a weekly family meal plan. It makes buying groceries, preparing dishes and packing lunches a doddle. And plenty of these dishes are ideal freezer meals, making mid-week meal prep even easier. Result. Be inspired by our healthy 7-day meal plan, with ideas for what adults and kids could have for breakfast, lunch, dinner, and snacks each day. 


The base for healthy eating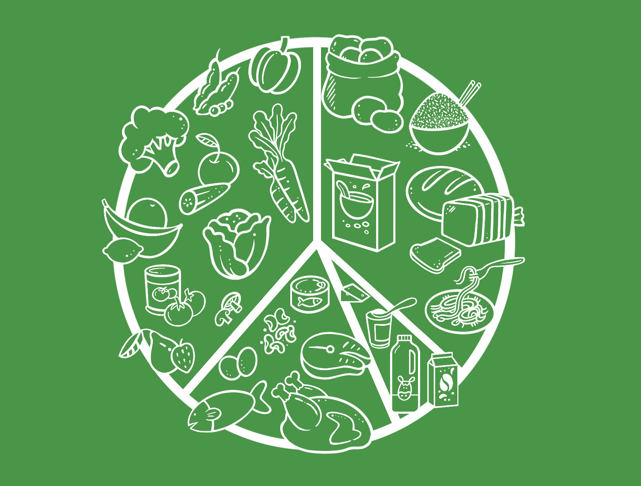 The NHS Eatwell Guide recommends we include the following in our diet, in these proportions:
Fruit and veg. This should make up a third of the food we eat on a daily basis. Aim to eat a variety, and at least 5 portions a day. 
High-fibre starchy foods. This should also make up a third of your food intake. Think bread, pasta, potatoes, and rice (yum, yum, yum, and yum) – ideally wholegrain or wholemeal versions.
Protein. Meat, fish, eggs, beans and pulses are all good sources of protein. Aim to eat two portions of fish a week, one of which should be oily.
Dairy or dairy alternatives. It's a good idea to include some milk, butter, yoghurt or cheese, too. If you (or your tum) prefer to avoid dairy, keep an eye out for alternatives that include added calcium and vitamins.
Bear in mind that these guidelines are for the general population, over 5 years old. Children from 2 to 5 should gradually move to eat the same food as the rest of the family. Allergies and dietary requirements might mean you need to make some substitutions, but you've got this.
Tip
It's a great idea to get the rest of the household involved in prepping meals – even if that means eager hands making a bit of mess. They're trying to help, and you love them for it, so a few mishaps here and there are no big deal. Simply keep some Plenty kitchen paper on hand to wipe up any spills during the food prep process. It's super-strong and super-absorbent – the perfect combination.

Monday
Get your weekly family meal plan off to a great start with these ideas for a meat-free Monday:
Breakfast: Porridge with berries.
Lunch: Pasta salad – easy leftovers from Sunday night (more on that later).
Dinner: Veggie meatballs with rice.
Snacks: Carrot sticks and a dip, like hummus. 

Tuesday
Any healthy family meal plans need to involve plenty of fruit and veg, and it's easy to get the kids on board with our Day Two ideas:
Breakfast: Yoghurt topped with muesli, fresh fruit, seeds and chopped nuts.
Lunch: Sandwiches. Get your key food groups in with wholemeal bread, a protein (eggs or chicken are good options) and leafy salad.
Dinner: Lasagne. You can use beef mince, go for a lighter option with turkey mince, or even use a vegetarian mince alternative. This is the perfect place to pack in hidden veg like carrots, celery and mushrooms. Oh-so sneaky but oh-so clever – they'll never know they're eating all the good-for-you stuff. Muahaha.
Snacks: Cucumber and pepper slices.

Wednesday
Forget the mid-week slump – with our meal planning ideas for families you'll be able to keep the energy going:
Breakfast: Cereal and milk. Try adding some dried fruit like raisins.
Lunch: Noodle stir-fry. Include crunchy veggies and your choice of protein.
Dinner: Fish pie. This is a great way to pack in nutritious, oily fish like salmon, especially if the kids aren't usually keen on it. Mix it in with white fish. Top with mash and a bit of cheese. Like Tuesday's lasagne, it's all about stealth… stealth, and cheese. Cheese is always a winner.
Snacks: Apple or pear slices.

Thursday
The fourth day of our meal plan for family of 4 includes crowd pleasers:
Breakfast: Toast with nut butter. The combination of wholemeal bread and nut butter makes a complete protein.
Lunch: Fishcakes. You can make these while making Wednesday night's fish pie. Pop some sweetcorn and peas inside, too. Yep, back on the veg-stealth.
Dinner: Chicken curry with rice.
Snacks: Banana.

Friday
Get that Friday feeling with a classic fish supper as part of our meal planning ideas for families:
Breakfast: Eggs. However you like them – boiled with soldiers, scrambled or poached on toast. Or dripping down your chin. You still love 'em even when they wear their yolk instead of swallowing it.
Lunch: Soup. This is another excellent way to disguise lots of veg. You'll be an expert in veg-stealth by the time the week's out. Keep it warm in a thermos, and eat with bread or crackers.
Dinner: Fish and chips. Make a healthier version with baked fillets of fish (rather than fried) and your own potato wedges with the skin on. But little ones need not worry – they can still eat them (and cover their faces) with a generous blob of ketchup. For the grown-ups, tartar sauce goes deliciously with this simple meal.
Snacks: Grapes or dried fruit like raisins.

Saturday
Bring on the weekend with the perfect Saturday meal plan for family of 4:
Breakfast: Pancakes with bananas. Nice. Added bonus: homemade pancakes are surprisingly easy!
Lunch: Jacket potato with chilli. You can make the chilli vegetarian by using lentils and beans.
Dinner: Pizza. Get your veggies in with toppings like mushrooms and peppers.
Snacks: Popcorn. This is a really healthy snack when you make your own. And a really fun one, too. Pop-pop-poppety-pop.

Sunday
Make the most of the extra cooking time at the weekend to create a feast – all healthy family meal plans need to include a veg-packed roast, after all!
Breakfast: Omelette. Pop tomatoes and mushrooms inside for yet more veg-stealth.
Lunch: Sunday Roast. This is a brilliant way to serve up lots of different veg alongside your favourite roast meat. Don't forget the Yorkshire puddings!
Dinner: Vegetable pasta. Be savvy and make enough for leftovers for Monday's lunch.
Snacks: Seeds and nuts. Take care to keep large whole nuts away from children under 5, as they're a choking hazard.
So that's your weekly family meal plan sorted, you'll always have the answer when the kids ask 'what's for tea?'
---
Did you find this article helpful?
Thanks for your feedback!
or