Tasty and nutritious lunch ideas for toddlers


Featured:
Plenty Flexisheets
Choose what you use with NEW Plenty Flexisheets Tubeless kitchen roll. Flexi-sized sheets that allow ...
It's easy to tell when a toddler has just eaten lunch – you only need to look at the floor to see exactly what was on the menu. But the post-meal mess is all part of lunchtime learning, and their happy, sauce-smeared faces make you feel like the best chef in the world. By preparing tasty and nutritious lunches for toddlers you'll find that more ends up in their tummies than on the floor… well, that's the plan, anyway! 
 So, whether you're looking for lunch for 1-year-old kids or lunch ideas for 2-years-old children, here are three healthy recipes that'll be easy to make and entertaining enough that kids will want to eat them straight away!


1. Silly spaghetti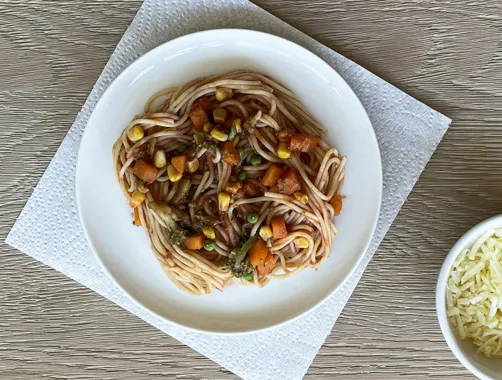 First things first, coming up with lunch ideas for 1-year-olds often requires making it fun. And the same goes when you're trying to conjure up lunch ideas for 2-years-old kids, too. Or 3-year-olds! Whatever their age, the more fun you can make it the better. And this healthy spaghetti can be super-slurpy, which makes it super-fun:
Cook your spaghetti/pasta shape of choice and let cool.
Prepare your vegetable/s of choice. Carrots, peas, sweetcorn and broccoli are great. Just be sure to cook until soft. This is key for most lunch ideas for toddlers – they're not always big on eating pasta al dente or nibbling on crunchy veg. 
If you've got the time to make a fresh tomato sauce, great. Otherwise, grab a jar of passata with no added sugar – perfectly acceptable.
Pour over the spaghetti and veg, and mix.
Now this is the key part. It's down to you to turn a nutritious vegetable pasta dish into your best silly spaghetti. That means playing the part. Act up on the wriggly-ness of the spaghetti as you pour the contents onto their plate. Make silly wiggly noises, call them worms – whatever it takes to spark some interest. Just don't forget to cut the spaghetti up when you're done… or use smaller baby pasta shapes if that's safer for your child. Sure, you might find that some strands wriggle onto the floor, but that's all part of learning the art of pasta slurping – they'll master it eventually!


2. Funky fish cakes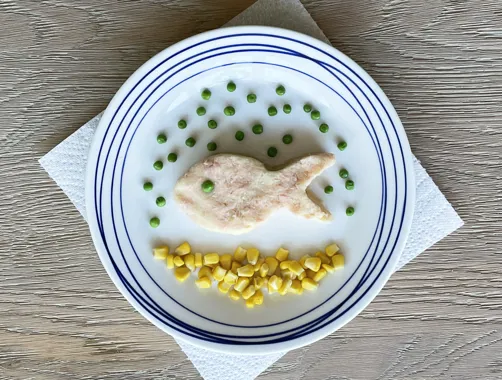 Hearty fish cakes are next up in our selection of three lunch ideas for toddlers. Here's how to make them:
Boil some potatoes and leave to cool completely.
While the spuds are on, bake, grill or poach some fish. Salmon, haddock and cod work well.
Mash the potato and flake the fish. 
Now the trickiest part, which requires a little artistic flair. And the more flair you can add into lunch ideas for a one year old the better. Combine the fish and mash and mould into the shape of a… fish. Better still, find a fish-shaped cutter and make life easy for yourself. 
Serve with vegetables of your choice. Let them play with the 'fish' a little if they like. Maybe keep one for them to fiddle around with while you spoon in the food. And if that little fishy makes a dive for the floor sea that's no problem – you can just scoop it back up with a handy piece of kitchen towel.
Top tip: make a batch and pop some in the freezer, ready for when you need another quick lunch for toddlers.


3. Fruit and veg faces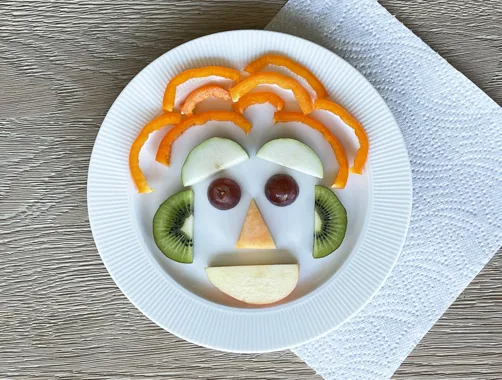 When you're looking for nutritious lunch ideas for a 1-year-old, 2-years-old, or even 3-years-old, fruit is a real go-to. And when you can combine it with veg, all the better. This one couldn't be any easier:
Cut up a variety of fruit and veg, cooking the veg if need be.
Arrange in a face shape – sliced banana for a mouth, cut grapes as eyes, sweetcorn for teeth, sliced halves of apples for ears… again, let your creative side out. 
Let your child's imagination run free and make some faces with them. Make some mess with them. And, most importantly, eat with them. You could have the best lunch ideas for 1 year olds but that doesn't mean they'll always go for it. But they do love mirroring behaviour, and sometimes you eating with them works wonders.
Pop the fruit and veg that doesn't get used in the fridge ready for next time.


Keeping the eating area clean-ish
Anyone who's tried to come up with lunch ideas for a 1-year-old or has any experience of dining with a toddler knows it's a messy job. But that's no biggie. Getting messy is part of learning how to eat, and you love that cute face smooshed with banana just as much as you love that cute face when it's all shiny and smiley after bathtime. It makes your life a bit easier, however, to prep for the mess. So here are some practical tips to keep things as clean as possible:
Cover the table with a wipeable protector.
And the floor.
And your hair. Just joking. (Actually, that's not a bad idea…)
Keep kitchen paper on hand to easily deal with any spills – pop a roll on the table and the highchair.
Don't worry about the little messes, but act quickly for big spills. You'll be glad you did in the long run. Days-old sour milk doesn't smell brilliant, after all.
Don't stress it too much – the priority is the eating. 
Tip
Plenty kitchen towel is ideal for a toddler lunchtime. Super absorbent and strong, it's perfect for wiping up the mess, for using as napkins and wrapping up leaky cold leftovers.
Easy lunch ideas for kids are such a bonus when you're juggling looking after your little one and working from home. And these three lunch ideas for a one year old, two year old and three year old should give you plenty of inspiration to make the next midday meal easier. The ones you love the most often make the most mess, but a few strands of spaghetti on the floor are no big deal when your toddler has a full tum and a big smile on their face.
---
Did you find this article helpful?
Thanks for your feedback!
or