Plenty Flexisheets Tubeless

kitchen roll: Choose what you use
Uh-oh! In a blender-blunder, you've just splattered your morning smoothie all over your t-shirt, kitchen counter and cupboards because, of course, the lid was off.
But fret not! At Plenty, we know life can throw curveballs, and we've designed our new Flexisheets kitchen paper with those in mind. Our wettable, wringable and scrubbable kitchen paper towel now comes in handy flexi-sized sheets. With more perforations on the roll, you choose what you use – waste less and save more, thanks to our super-absorbent and strong kitchen roll!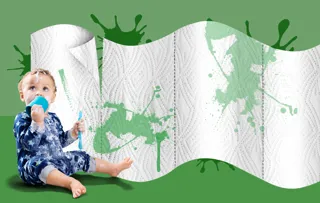 Choose what you use! More perforations mean more kitchen paper sheets
With more perforations and a longer roll, the flexi-sized paper towel provides maximum absorption and flexibility while preventing unnecessary waste. Tackle mess more efficiently than ever by choosing the perfect amount of paper towel for any task – whether it's sticky ice cream smears from little toddler mitts or warm, sunshine-yellow puppy piddles pitter-pattered across the kitchen floor. With Flexisheets kitchen roll, smaller sheets allow you to use less, so you can save more!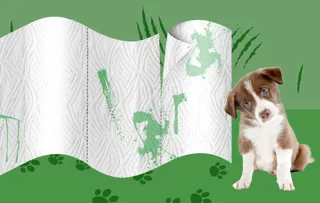 Strong kitchen roll for when life gets messy
Plenty Flexisheets kitchen roll are wettable, wringable and scrubbable. Whether it's splashes of sauce or spilt drinks, just give your wet Plenty Flexisheet a wring and go again! The kitchen roll is 40% more absorbent and stays strong when wet, making Plenty's superior-performance towels the perfect solution for any cleaning task, big, small, or in-between!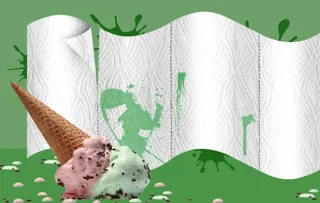 Flexisheets kitchen roll comes without a tube!
Did you know Plenty Flexisheets kitchen roll comes without a tube? The tubeless design makes Plenty kitchen towels an easy way to reduce waste at home, as not only you can choose to use a smaller sheet when the spills are smaller – there's no cardboard tube to throw away either. And there's more. The Plenty Flexisheets roll is just one step on our sustainability journey. At Plenty, we're committed to reducing our environmental impact while caring for your wellbeing too, and by 2025, we're aiming to use 100% recyclable packaging across all our products.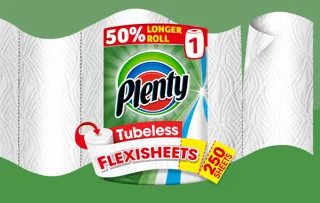 Get more from your kitchen roll
We're here to help you navigate life's many messes, so check out our kitchen tips for advice on cleaning up those everyday spills and splashes.